How To Download From The Internet Safely Without Getting A Virus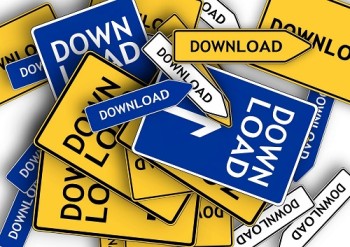 You can download from the internet safely and don't get a virus on your device. This simple guide will tell you the easy secret tips to make your internet routine less risky.
Download any file from the Internet without any risks
If you're even a beginner Internet user, you must have experienced downloading files from the web. It's a common practice for many people. First of all, not everything is available online, and you might need to get the file to your computer. The second reason is that people may need the documents in their use on the laptop. The reasons vary, but the main question remains the same.
How can I safely download from the Internet? There are clear threats for the Internet players everyone must beware of. You have to find ways to download safely, otherwise, your device or personal data might be threatened.
This article is focused on inexperienced users or those people with a profound web surfing background, who don't know the basics of safe downloading practices. How to use Chrome extensions? By reading down the page, you will answer this and many other questions to become a better-equipped online user and protect your data from Internet threats.
How to check if the file is safe
Before you download something to your phone or computer, you need to check if it's safe to work with the document. How do I know if a download is safe? The risks of getting caught by scammers when downloading a strange file or video online are high. For this reason, you should be aware of the methods to help check the credibility of the document to be downloaded to your device.
Scan the files.
See if you work with the familiar format.
Check if the file has multiple downloads.
Make sure to read the reviews about the file you are up to download.
You don't need to be a technology expert or understand how everything works on the Internet to help yourself deal with safe files. If you follow simple tips from the list, you will prevent a mistake from occurring.
Top 5 useful tips to download files safely online
When you decide to play safely and use only properly verified websites and files, you should also learn about the tips to manage the activity online with fewer dangers to your device or personal data. Can you get a virus just from downloading? Yes, it's an easy deal to get a virus when you improperly use the network.
Hence, there should be a clear understanding of what steps to take to come across fewer mistakes as an Internet user. You should beware of the wallowing tips to help yourself work safely online and enjoy the routine.
Activate a Firewall extension
This is a working tool to help users visit only safe websites. A firewall is an effective way to protect your activity on the web. It's an extension for your browser that will make your downloading experience less risky for the data and personal privacy. How does it work? You won't download from a dangerous or low-credibility website, because the Firewall extension won't give you access to the portal.
This is how the tool works. You don't risk a lot because the low-quality websites are simply unavailable for you. This is why a firewall extension is such a critical option for many.
Use a VPN tool and equip yourself with the antivirus software
The use of a VPN extension is another tip. If you get a VPN for Chrome extension, you will feel safer. By installing a Chrome extension VPN, you can hide your IP address and protect your location. The use of VPN apps can change everything. If you set a VPN, you will see the results. It's free to use for newcomers. Do I need to set up VPN? You should download it straight away.
Many users don't get the phenomenon behind the VPN use. In many cases, users see this option as additional means of protection. But it can work perfectly as a major safety tool.
Scan the files before opening them
When you decide to download the files, you should scan them. Check the name of the file and see the file extension. You should beware of strange letter combinations or symbols. Only the well-verified documents have to be downloaded to your device, not the suspicious ones.
Avoid suspicious web pages
We all know these tricks used by hackers to make users lose their attention and fall for the wrong website. If you need to download the document online, you should be cautious about the use of bad-looking web pages. How do you tell if a download is a virus? If you get it from the wrong website, you might catch a virus document.
How do you know that you deal with the right web page? The case is that even the official websites can be copied or hacked by fraud. For this reason, always check the name of the page. If there are any strange letters or signs, you should leave the page. Also, check if the website has any flaws with the interface. It usually designates a fraudulent web page with a copied design.
Try using an antivirus
If you're highly afraid of getting caught by hackers and having your data in the wrong hands, you should get yourself a good working antivirus. This is an important step for the safety of your use. On the Internet, you can find different types of antiviruses. It's better to equip your device with a paid tool to ensure the best level of protection.
Final Words
How do you protect yourself from downloading files with viruses or other dangerous documents? In the article, you can find tips to help prevent such mistakes from happening. If you choose a relevant browser plug-in and follow the tips from the guide, you will see how safe your browsing and downloading practice could be.